Out of Hours Emergencies
If you need urgent medical assistance when we are closed, please call 111. In an emergency please call 999.
This service is for emergencies
It should not be used instead of a day time appointment
All calls are monitored and will be reviewed by our Doctors
If you have a minor ailment you could visit your local pharmacy who will be able to provide you with some help or signpost you onto the next available service.
Out-of-hours services are generally busy so please think carefully before asking to see a doctor and only do so if you genuinely cannot wait until the surgery re-opens.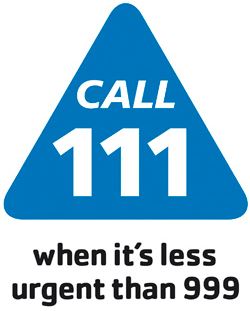 A&E (Accident and Emergency)
This guide has been developed for you, our patients to help you understand what Accident and Emergency Departments (A&E) are, when to use them and what alternative sources of healthcare help and advice are available to you.
What are A&E Departments?
A&E departments, sometimes called casualty or Emergency departments, are hospital units where the public can attend without an appointment for Accidents, emergencies and other very urgent medical Conditions which may require the facilities and expertise of highly skilled hospital teams. Examples where it is right and appropriate to attend A&E without delay include Major injuries for instance;
Injuries from road traffic accidents
Serious falls
Major head injuries
Collapse
Severe breathing difficulty
Severe chest pain
Severe haemorrhage
Poisoning
Extensive burns
What Sorts of Conditions are not Appropriate for A&E Departments?
Unfortunately many people attend A&E with very minor problems. This makes it difficult for A&E staff to deal with the volume of cases, this will then involve delays for patients and incurs considerable costs. The following are examples of minor problems for which A&E attendance is not appropriate. Generally, if the Person is unwell, but alert and speaking without impaired consciousness or severe breathing difficulty, then they do not need to attend.
Flu-like illnesses
Coughs
Earache
Backache
Sore Throats
Minor breathlessness or wheezing
Abdominal pain (unless extreme or associated with collapse)
Urinary difficulties (unless extreme or associated with collapse)
Urinary pain (Unless extreme or associated with collapse)
Urinary difficulties (unless completely unable to pass water)
Vaginal bleeding (unless very heavy and associated with faintness)
Rashes (unless it appears like spontaneous bleeding under the skin or the person is very unwell)
Diarrhoea and vomiting
Simple bites and stings
Social problems
Emergency contraception
Dental problems (except major trauma)
Such conditions can generally be safely managed by your GP, practice nurse and sometimes with advices from pharmacists, by yourself.
Minor Injuries Unit - Wimborne Comunity Hospital
The Minor Injuries Unit at Wimborne Community Hospital provides a nurse led service assessing and treatment of minor injuries and illness for adults & children. Please telephone 01202 856436 for an appointment.
advice & treatment of lacerations, burns & wounds, musculoskeletal injuries including sprains, strains and fractures, head injuries, eye injuries, foreign bodies.
assessments following a fall in the elderly.
treatment & advice for minor illnesses such as coughs & colds, asthma, bites & stings, rashes & allergic reactions, earache & sore throats, and emergency contraception.
open 8am – 8pm everyday
Bridport Minor Injuries Unit: Telephone 01308 426245 9am - 8pm weekdays & 9am - 6pm weekends
Shaftesbury Minor Injuries Unit: Telephone 01747 851535 8am - 8pm everyday
Swanage Minor Injuries Unit: Telephone 01929 475009 8am - 8pm everyday
Weymouth Urgent Care Centre: Telephone 01305 762541 8am - 8pm everyday
Other Sources of Help
Hospitals
Royal Bournemouth: 01202 303626
Poole Hospital: 01202 665511
Alderney: 01202 735537
St Annes: 01202 708881
Aids Helpline: 0800 567123
Citizens Advice: 0344 411 1444
Carers Link: 01202 458204
Community Health Council: 01202 393444
Drugs/Alcohol Advice: 01202 735777 / 01202 296000
Emergency Dentist: 01202 659292
Housing care – home services: 01202 432288
Samaritans: 116 123
Social Services: 01202 261000
Social Services (emergency): 01202 668123
Police (non emergency): 01202 552099