Configure Appointment Details
Making an Appointment
GP appointments and bookings
The way we access GP services has changed. Below are some frequently asked questions that may help you understand these changes:
Why can't I walk into my GP practice?
The Coronavirus (Covid-19) pandemic has forced us all to work differently to help slow down the spread of the virus. All healthcare settings are taking special measures to protect you, the public and their staff. GP practices are working as hard as ever, but differently.
Where possible we want to avoid people having to wait inside a waiting room together, as we know this increases the risk of the virus spreading. Like hospitals and dentists, we have also had to change how we offer our services to you.
If you do need to come in, then we can ensure there are a minimal number of people in the Practice and we can maintain social distancing and keep patients and staff safe.
How do I get an appointment?
The easiest and most effective method is to telephone our practice directly. Please do not email the Surgery to request a GP Appointment
Why can't I book a face to face appointment?
We have adapted the way in which you can get an appointment quickly and safely. Most patients' health concerns can be managed over the phone or via video consultation. This is why we are providing you with either an initial phone call or video consultation to decide what would be the best way to help. If we can support you without needing you to come into the Practice then we can reduce the need for you to travel, and reduce the risk of the virus spreading.
If you do need a face-to-face appointment, you will be invited to attend the practice and we ask that you wear a face covering at all times.
If we can ensure there are a minimal number of people in the Practice, we can maintain social distancing and keep patients and staff safe.
What is E-consult?
You can access e-consult via the Practice website. It lets patients consult their own NHS GP online by completing a quick form which is reviewed by the Practice. After reviewing your query, you will then be directed toward the most appropriate help. This might be some advice on self-help, pharmacy advice, an appointment with one of our Practice clinical team or another service. Your data is secure at all times - including during a video consultation or telephone call. E-consults are very useful if you have an administartove query i.e. require a sick/fit note.
What if I do not have access to a smartphone or web camera?
While technology has evolved and supports us all in so many different ways in our day to day lives, we appreciate not everyone will have access to a smartphone or web camera for a video consultation. We can still talk to you on your mobile phone or landline.
Will I need to wear a facemask if I come into my practice for an appointment?
To help limit the spread of the virus, we are asking for all patients aged 12 and over to wear a face covering when they come to the Practice. This doesn't have to be a face mask, but a cloth covering which covers your mouth and nose while allowing you to breathe comfortably. It can be as simple as a scarf or bandana that ties behind the head. You can find this additional information by visiting https://www.gov.uk/government/publications/how-to-wear-and-make-a-cloth-face-covering/how-to-wear-and-make-a-cloth-face-covering
You may not actually need to be seen, with WebGP, you can submit an online assessment and get a response from a doctor by the end of the next working day. Give it a try, it may save you having to come in for an appointment.
Why do receptionists ask me questions about my health when I call, surely they are not trained to assess my condition?
Our receptionists will ask you why you require an appointment, they are not being nosey or trying to assess your condition. Our GP's have requested that our staff ask these questions, in order to book you with the relevant clinician, that can deal with the condition you present with.
Although our receptionists are not clinically trained they are trained in the type of questions being asked.
Book your Appointment through SystmOnline
SystmOnline is available to ALL our registered patients. Once registered, you can book your appointment(s) online.
To register for this service click here.
If you're already registered, click here to book your appointment(s).

Appointments System
Creekmoor Surgery Appointment Line: 01202 601470
Oakdale Surgery Appointment Line: 01202 660922
Consultations are by appointment and can be booked in person, by telephone or online via the link at the top of this page.
Telephone Advice
Interruptions during surgery are upsetting for both the doctors and the patients. The practice has the following system where patients can speak to a GP or nurse on the telephone after surgery.
Please telephone the surgery before 12:30 each day and your name and contact details will be put on the Doctors' list to telephone you after the morning surgery has ended.
In an emergency the receptionist will contact the doctor on call.
Do you really need to see a doctor?
Click on the link below for some alternative services: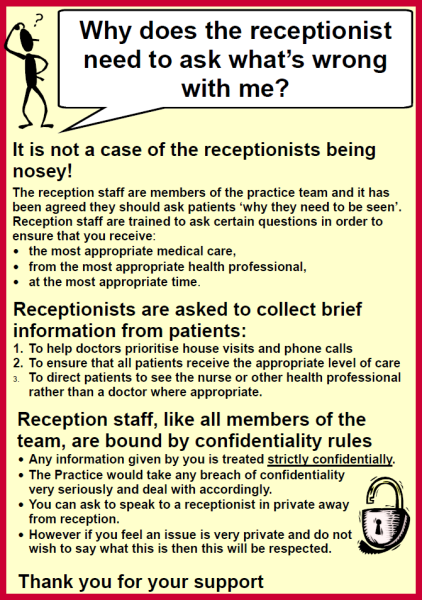 Not Registered for Online Services?
Once the Covid-19 pandemic is over, we will be able to open up more on-line services which will include being able to book your own appointments on line.
Once this service is reinstated we will let patients know.
In the meantime, to book an appointment you will need to telephone our surgery directly, where a member of our reception team will be happy to assist you.
Creekmoor: 01202-601470
Oakdale: 01202-660922
Home Visits
Whilst we encourage our patients to come to the surgery, where we have the proper equipment and facilities available, we do appreciate this is not always possible. In this respect, if you do need a home visit, you can help us by calling reception before 10:30. If you require an urgent visit after 10:30 the receptionist will contact the doctor on-call for you.
You may only request a home visit if you are housebound or are too ill to visit the practice. Your GP will only visit you at home if they think that your medical condition requires it and will also decide how urgently a visit is needed. Please bear this in mind and be prepared to provide suitable details to enable the doctor to schedule house calls
You can also be visited at home by a community nurse if you are referred by your GP. You should also be visited at home by a health visitor if you have recently had a baby or if you are newly registered with a GP and have a child under five years.
Cancel an Appointment
It is important that you inform the reception staff if you are unable to attend your appointment, this will allow that appointment to be offered to another patient. If you fail to notify the Practice that you are unable to attend, you will be sent a letter informing you that you have defaulted from your appointment. Persistent defaulters maybe removed from the list.
You can also complete our appointment cancellation notification request form. This can only be used if your appointment has been arranged for more than 24 hours in advance. (excluding weekends and public holidays). You can also text to cancel your appointment.
Late For Your Appointment
Please attend your appointment on time, if you are late you may not be seen. If you are not seen you will not be able to rearrange your appointment until the next working day-except in the event of an medical emergency that requires immediate attention.
Interpreter
If you require an interpreter to attend with you when you see your Doctor please notify the receptionist and she will arrange this for you.
Text Reminder Service
We have a texting service which allows you to receive confirmation and reminders about your appointments.
To have this service you will need to register by completing a consent form.
Please remember to update your contact details with us when you change address, telephone numbers and email address.
Extended Practice Opening Hours
Extended hours appointments are offered at Creekmoor Surgery:
Monday: 18:30 - 20:30 (pre-booked appointments only)
Alternate Saturdays: 08.00 - 10.30 (pre-booked appointments only)
Please note our late Monday evening clinic and alternate Saturday morning clinic's are currently not taking place until further notice due to dealing with the Covid-19 outbreak
Please only use eConsult if you feel your problem can be easily dealt with through an email.
If you feel you need to speak to a doctor please call the surgery and book a telephone consultation.
Thank you.